Superintendent's District Update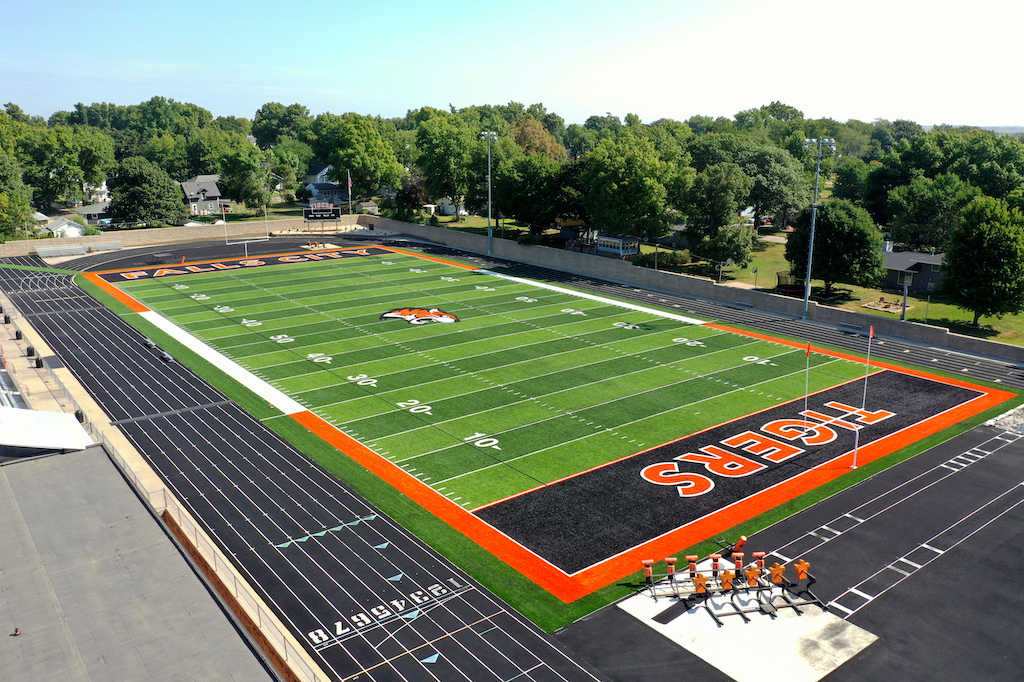 The Falls City Public Schools held its regular monthly board meeting on Monday, September 12, 2022. Here are the highlights of the meeting.
Synthetic Turf Replacement at Thomas Memorial Track & Field - As a result of the partnership between the patrons and staff of School District 56, RDg Planning & Design, Sprinturf, the Tiger Booster Club, and private donors, we have a new football field to kick-off the 2022 football season. The new Thomas Memorial Field offers a top notch venue for the community's athletes and fans, and a welcoming site to our neighbors and those visiting Falls City High. This state-of-the-art outdoor sports facility is the home of football, soccer, track and field, and will continue to provide a facility for club sports, intramural programs, and recreational use by the Falls City community. School District 56 is deeply grateful for the support we have received for this project. THANK YOU to all involved in making this beautiful field a reality for the Falls City Public Schools. We look forward to many more exciting events on Thomas Memorial Field at Jug Brown Stadium.
Timeline for Completion:
December 13, 2021 - School District 56 Board of Education unanimously approved the engineering agreement with Jason Blome, Senior Partner with RDg Planning & Design, for professional design and construction administration services.
April 11, 2022 – Sprinturf awarded bid for the artificial turf replacement project. Base project cost $376,000.
June 1, 2022 - Mid-field Tiger logo and endzone lettering made possible due to the generosity of the Tiger Booster Club and private donations. Bid alternates cost $36,500.
August 8, 2022 – The first football practice for the 2022 season on Thomas Memorial Field.
School District 56 Budget and Property Tax Request Hearings for fiscal year 2022-2023 were held on September 12th at the Central Office in Falls City Middle School. The General Fund budget increase over the 2021-2022 budget is 4%, with 83% of the General Fund budget directly supporting classroom instruction and students. The largest increase is a 3% increase in faculty and staff wages and fringe benefits, with the remaining increase in the State Categorical Grant Programs, and a slight increase to Necessary Cash Reserves. The Special Building Fund Budget decreases over the 2021-2022 budget by (43%) and reflects the 2021-2022 expenditure of ESSER II & III Federally funded projects, no longer in the current budget. The change in the 2022-2023 overall operating budget compared to the 2021-2022 is a decrease of (3.7%).
The total assessed value of property differs from last year's total assessed value by 2.96%. $930,535,988 in 2021 and grew to $958,046,107 in 2022, up $27,510,119. The 2022 General Fund proposed property tax request increases 2.6% or $238,610 over the 2021 property tax request, and will be $9,754,571. The Special Building Fund proposed property tax request for 2022 does not increase over 2021, and remains at $404,040. Falls City Public Schools proposes to adopt a property tax request that will cause its tax rate to be 1.018173 per $100 of assessed value, compared to 1.022632 in 2021. The General Fund, combined with the Special Building Fund have the statutory requirement of the $1.05 levy limit, while bond funds fall outside the levy limit. The Property Tax Request is within the allowable growth percentage. The School District is not required to complete postcard notification requirements, or participate in the joint public hearing.
Student Enrollment - Enrollment figures as of September 12, 2022 show a decrease from the 2021-2022 school year. Current enrollment numbers show 822 students in pre-kindergarten through 12th grade, which is down 10 students from a year ago. The largest class is the senior class with 67 students, and the smallest class is the kindergarten class with 46 students.
State Board of Education Acts on Mathematics Standards - On September 2nd the Nebraska Department of Education approved new Mathematics standards K-12. NDE made three important shifts in the layout of these standards. First, they are narrowing the focus of the skills being taught at each grade level. Second, they are focusing on coherence between grade levels so that everything that is taught builds on students' prior knowledge. Finally, they are focusing on increasing rigor and ensuring students can apply what they have learned and will put extra emphasis on data and statistics, according to NDE officials. The standards also aim to make sure middle school students are ready for algebra in high school by increasing their understanding of ratios, proportional reasoning and arithmetic of rational numbers.
The District 56 Board of Education acted on several items before concluding the regular meeting.
1. Approved the Final Reading on Policy Reviews and Revisions: 1) 4225 Title IX Policy; 2) 5309 Fiscal Management for Purchasing and Procurement with Federal Funds; 3) 5312 Bidding for Construction, Remodeling, Repair or Related Projects Purchased with Federal Funds; 4) 5420 Local Meal Charge Policy.
2. Approved the Budget of Disbursements, Receipts, and Transfers for 2022-2023 as published.
3. Approved the Property Tax Request Resolution for 2022-2023 as published.
4. Recognized the FCEA as the exclusive bargaining agent for non-supervisory certificated instructional faculty of Falls City Public School District #56, including teachers, guidance counselors, media specialists, and speech-language pathologists for the 2023-2024 contract year.
The next regular monthly Board of Education meeting is scheduled for October 10, 2022 at 7:00 P.M. in the Central Office in Falls City Middle School. Regular and special meeting agendas are kept in the Office of the Superintendent, Tim Heckenlively.
Falls City Public School District does not discriminate on the basis of race, color, national origin, religion, sex, marital status, sexual orientation, disability, age, genetic information, citizenship status or economic status in its programs, activities and employment.