Come to Falls City high school on Thursday December 1st at 6 pm to support the Tiger wrestlers and the SENCA food pantry. Everybody who brings a food item will be admitted for free. The Tigers will dual Syracuse. Items in demand: boxed dinners, mac & cheese, soups, canned pasta, noodles, juice, cereal, peanut butter, toliet paper, paper towels, kleenex, new born - 4 diapers, baby wipes, shampoo, conditioner, toothpaste, soap, laundry detergent, dish soap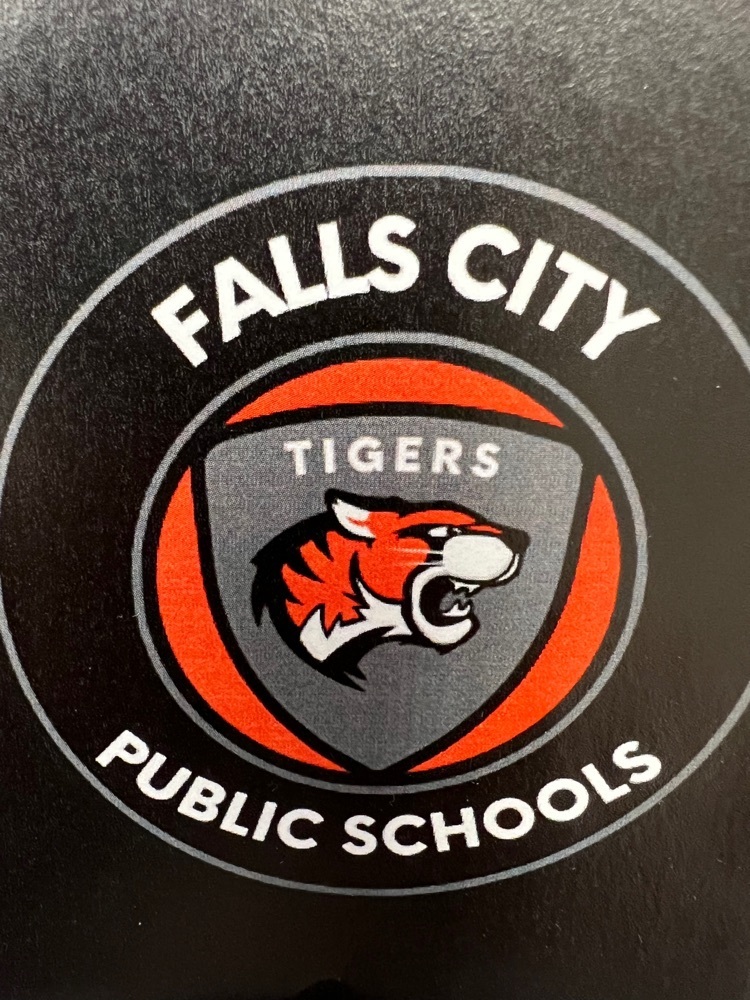 Our FCCLA service project delivered meals on wheels and made caring blankets to donate to the Children's Hospital in Omaha.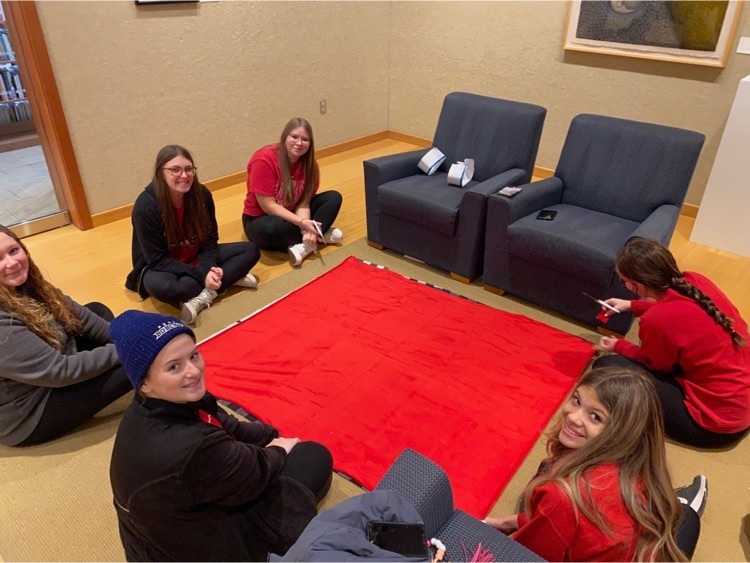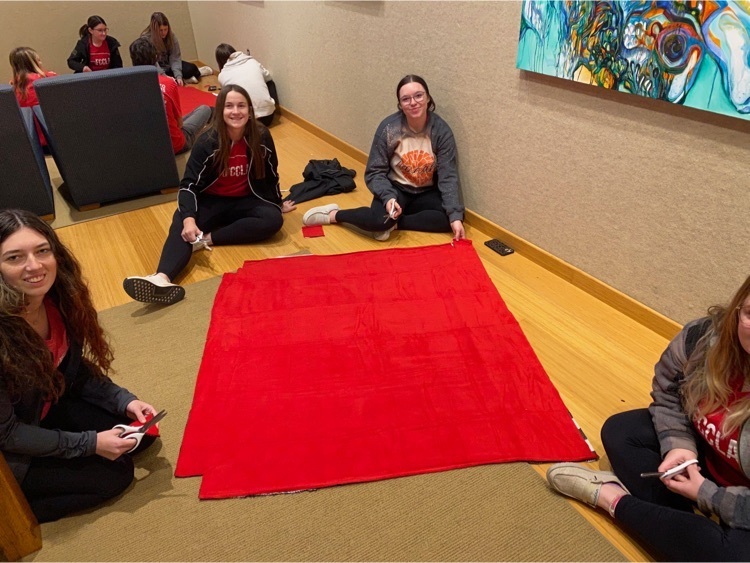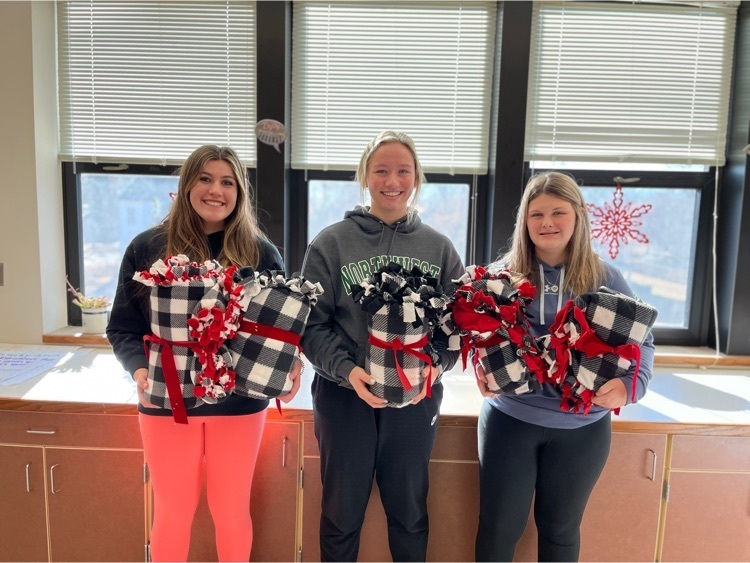 Falls City Tiger girls and boys basketball jamboree tonight versus the Sterling Jets. #showyourstripes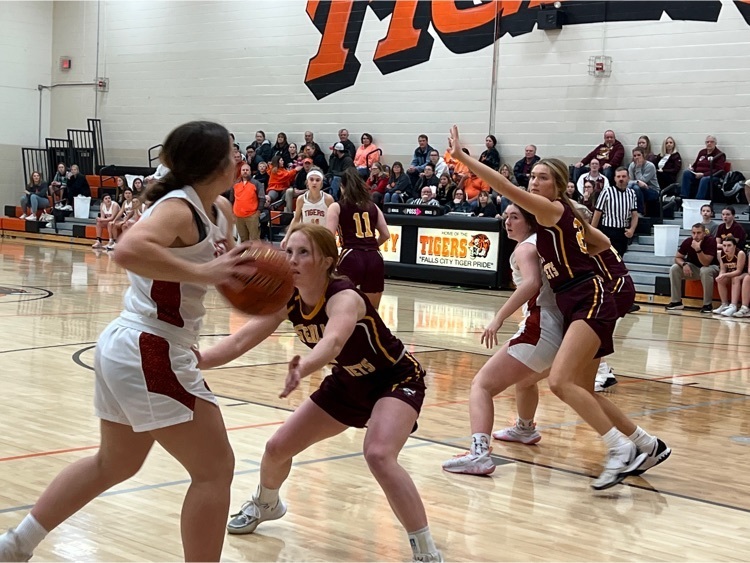 Ms. Powell's 5th grade class designed floats for a parade, wrote persuasive and informative paragraphs as to why someone should attend a parade, and mapped out a parade route. Check out their hard work!
https://youtu.be/gQjAulPD_XE
Social studies students in 6th, 7th, and 8th grade classes with Mrs. Jeffries, and Mrs. Boatright are able to earn extra credit for attending the network to freedom ceremony November 25 at 5:00 pm at 1601 Stone.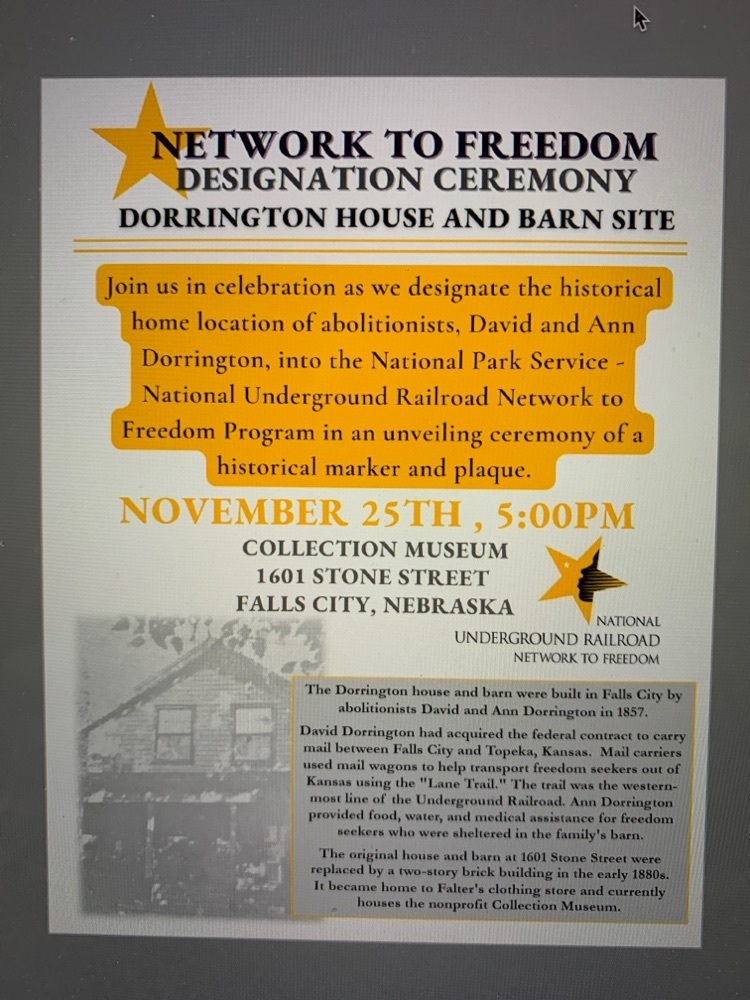 The middle school boys basketball game vs Maryville today has been postponed due to sickness in Maryville. There is no practice today after school.
Help our schools this holiday! Save Sunmart receipts, Our Family UPC labels, and Box Tops!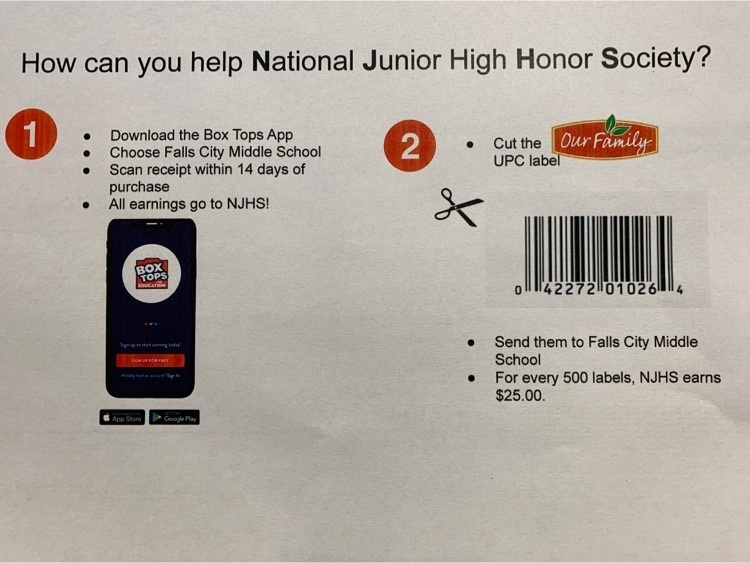 Mrs. Glathar's first graders completed a STEM project today based on the book "Balloons Over Broadway." They first listened to the story and then were given supplies to create their own parade balloon. The class took their balloons on a parade around North School.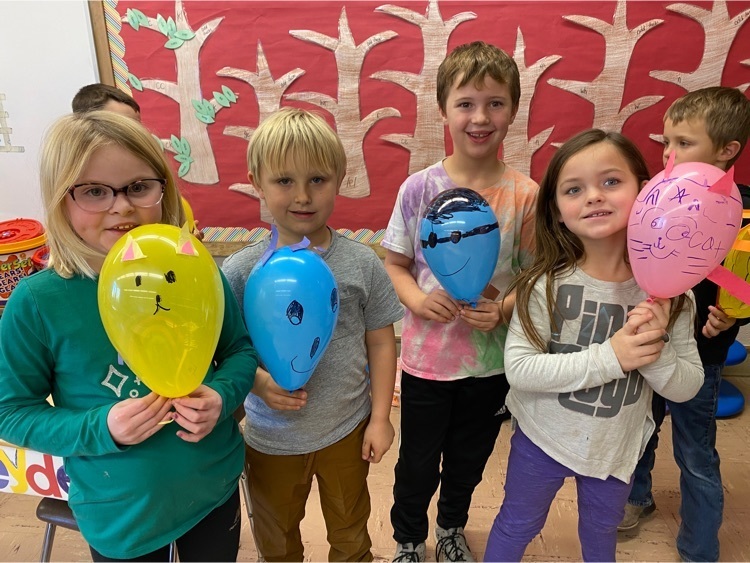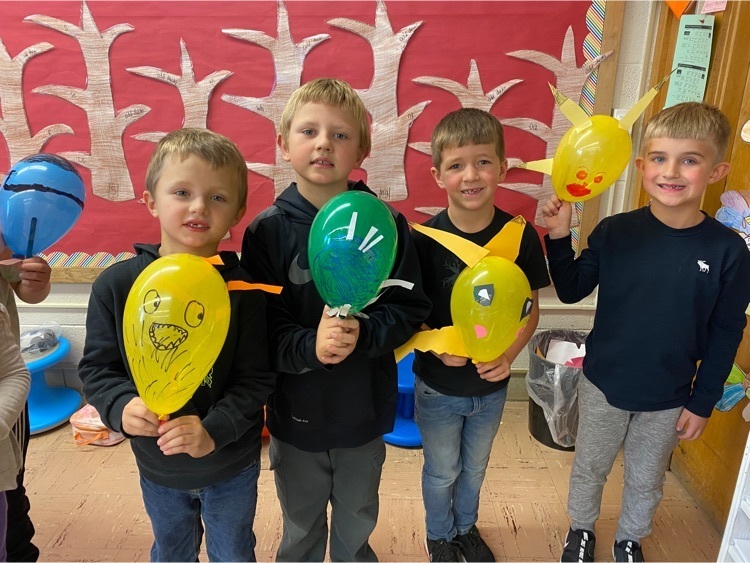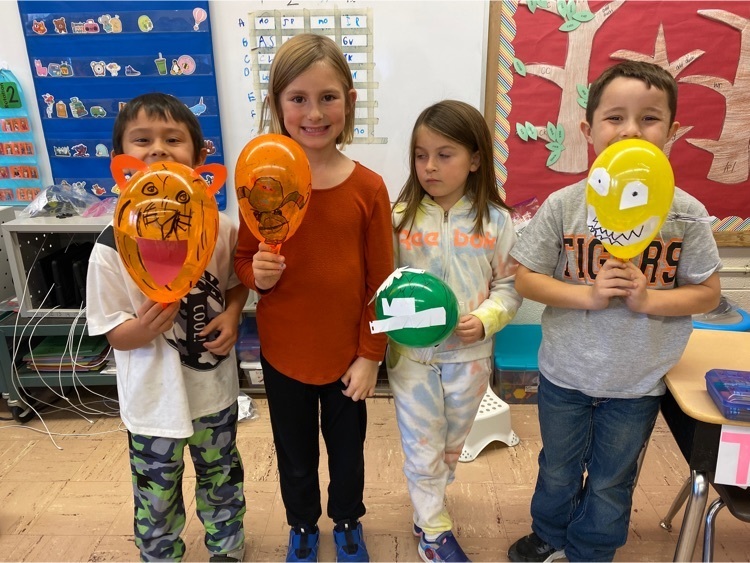 The admission prices for the Basketball Jamboree game on Tuesday, November 22 will be adults - $6 and students - $5. No passes will be accepted. This is a fundraiser for the Nebraska High School Hall a Fame.

Students from Falls City High School and Falls City Scared Heart participated in a visioning project with community leaders. This opportunity was made possible by Four County Collaborative under the leadership of Laura Osborn. Craig Schroeder, event leader, engaged the students in reflection activities. The students were tasked with presenting and discussing their ideas for improving Falls City in the future.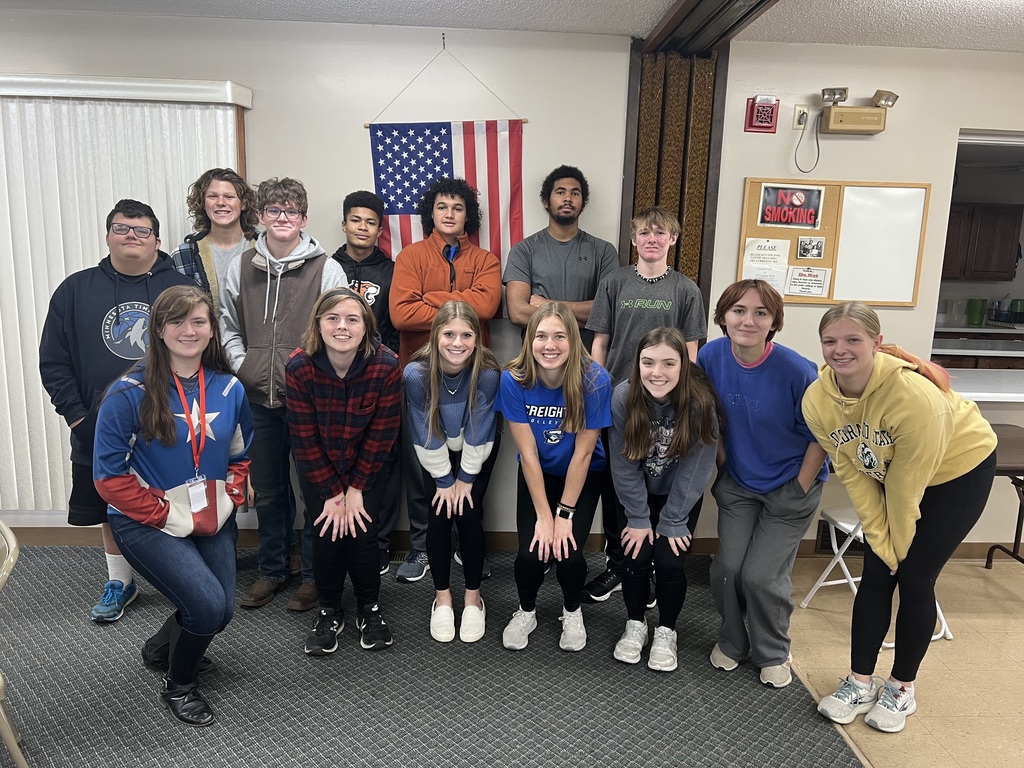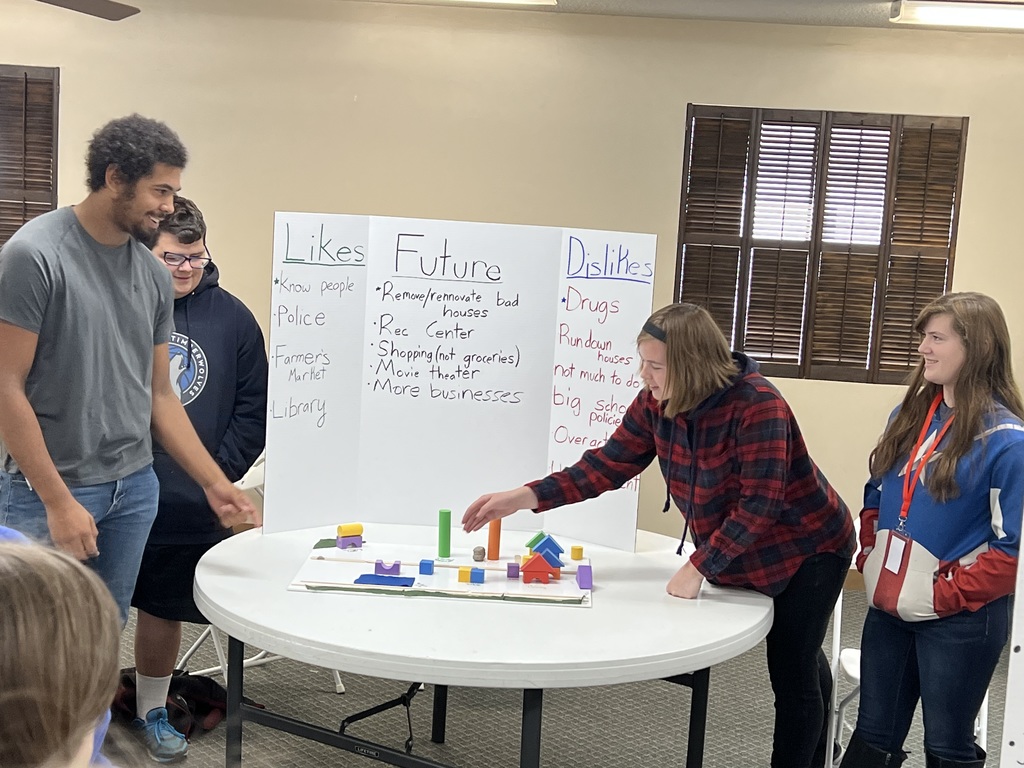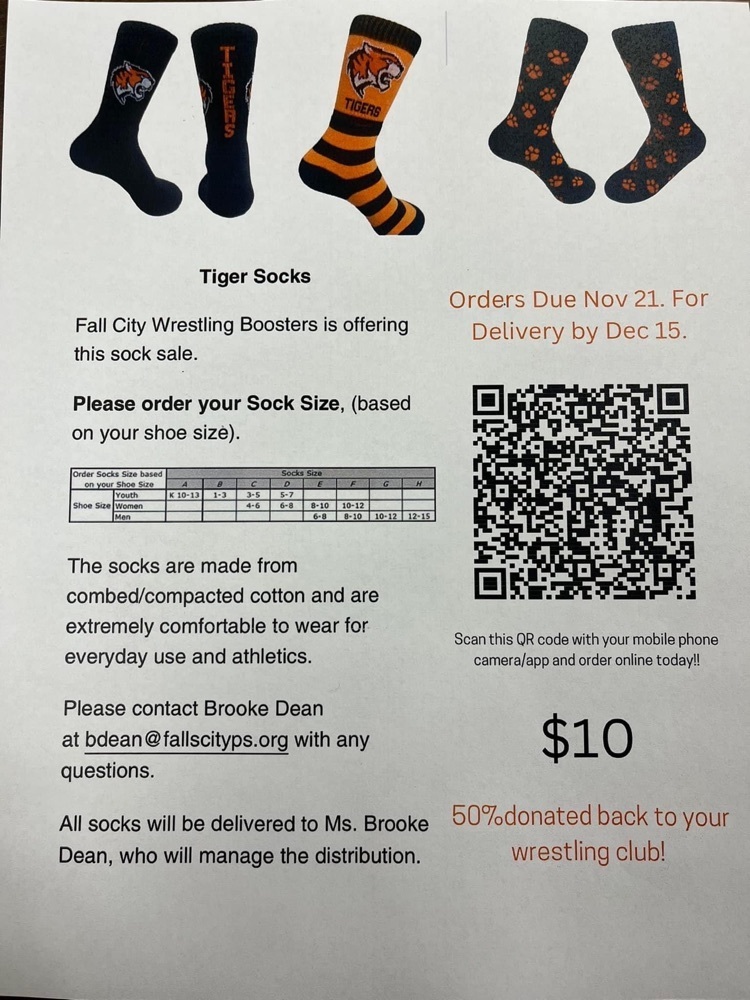 The staff and administration of Falls City High School have announced the
selections for October High School Students of the Month. The honors go to the following students: Upperclassmen- Silas Amanullah, a senior, is the son of Sara Ruiz and Mohammed Amanullah, Kacy Brewer, a senior, is the daughter of Scott and Trish Brewer. Underclassmen- Brock Niedfeldt, a freshman, is the son of Joe and Katie Niedfeldt. Evie Rue, a freshmen, is the daughter of Paul and Sara Rue.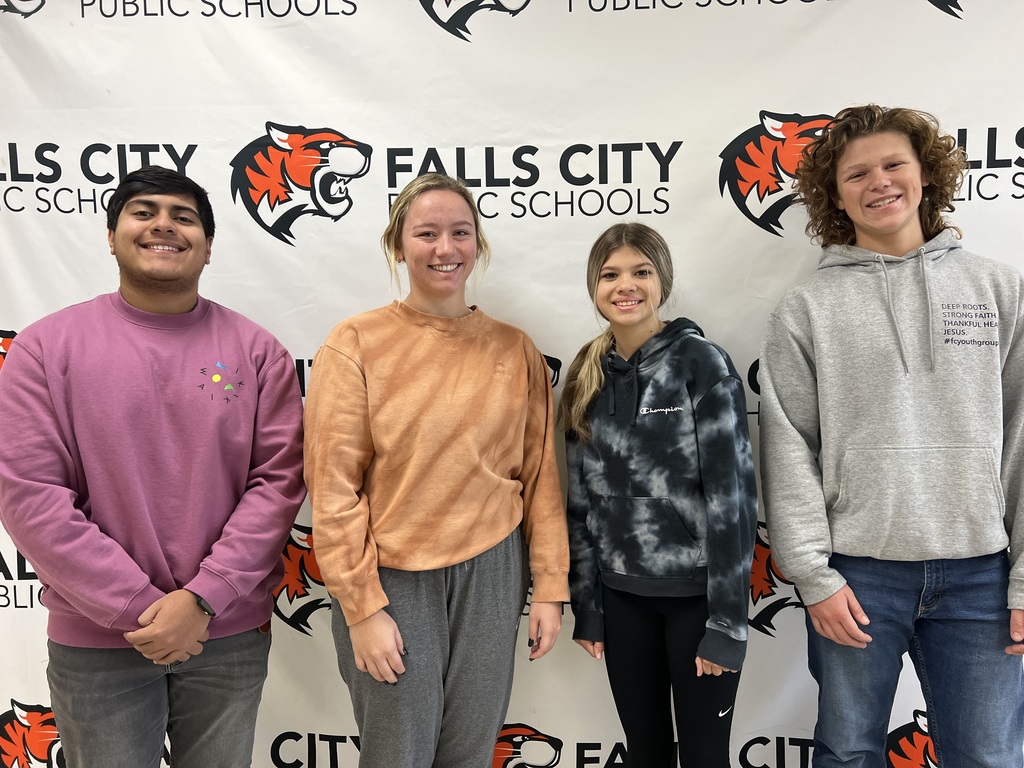 Elementary students took part in their monthly R.O.A.R.S. Jam to celebrate students who demonstrate our PBIS expectations (Respectful, On task, Appropriate behaviors, Responsible and Safe). Each month students are recognized when Dudley, our school tiger, makes his debut. Each grade level has 8 students who are recognized. This month the recognition was a Friendsgiving theme. The high school art students assisted with a craft and the top student in each classroom also received a free slushy from Dollar Fresh! To see a recap:
https://youtu.be/vUg_K2Kgibc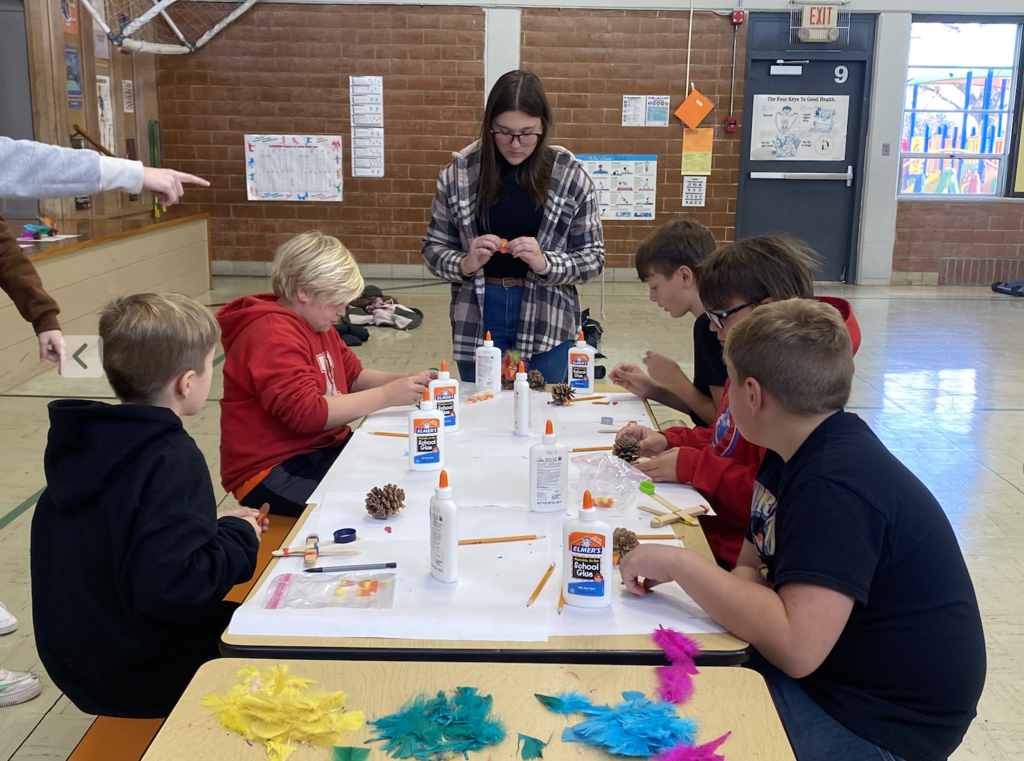 Mrs. Auffert's class completed a milk taste testing lab with 1%, 2%, and whole milk and learned the process of how milk goes from the farm to the table. This is part of the Nebraska Agriculture in the Classroom grant. We received lesson plans and activities that are aligned to state standards to help us learn about agriculture here in Nebraska.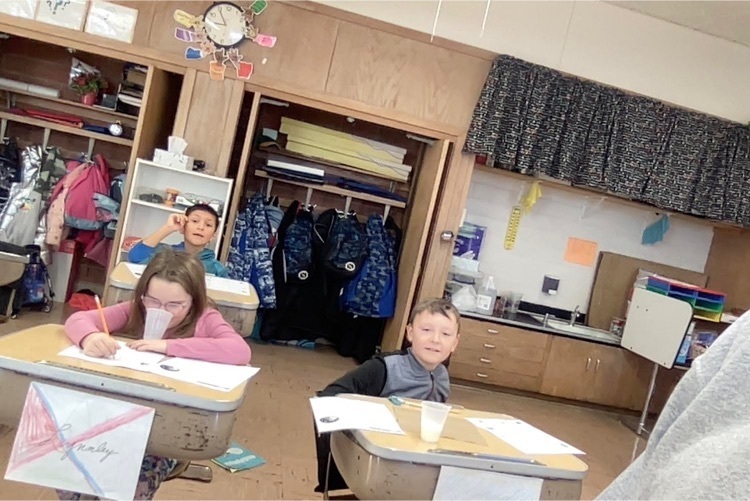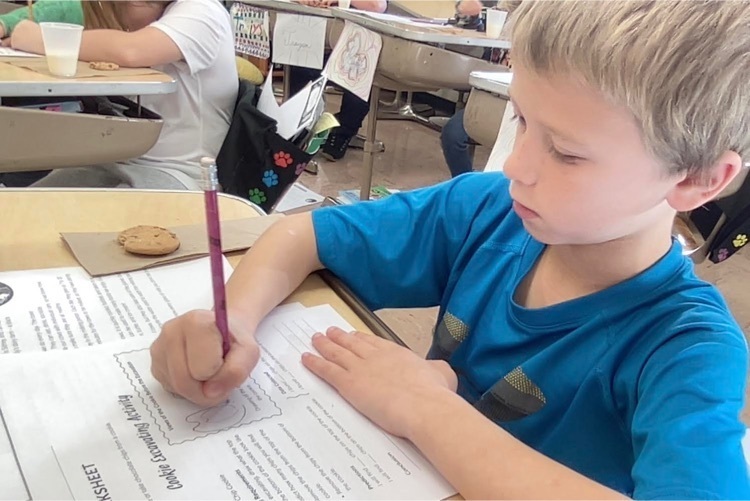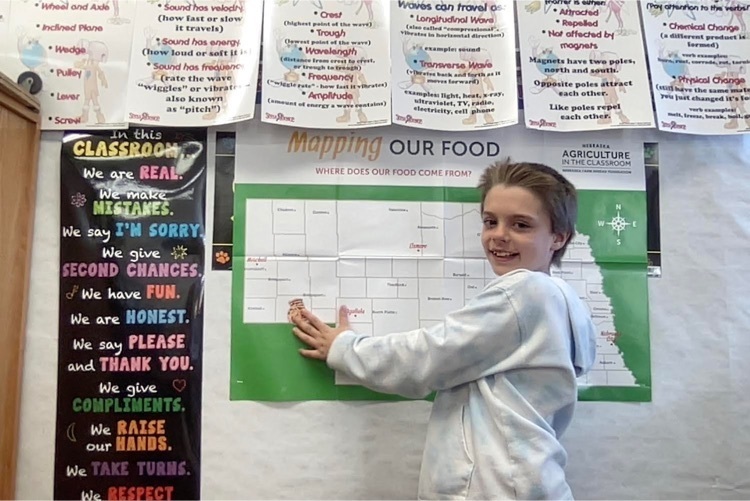 Congrats to the following volleyball players for receiving All-Conference Selections: 1st Team-RaeAnn Thompson 2nd Team-Lexi Brewer 3rd Team-Ashleigh Kirkendall Honorable Mention-Reece McNeely Congratulations ladies! 🏐🐅💪🏼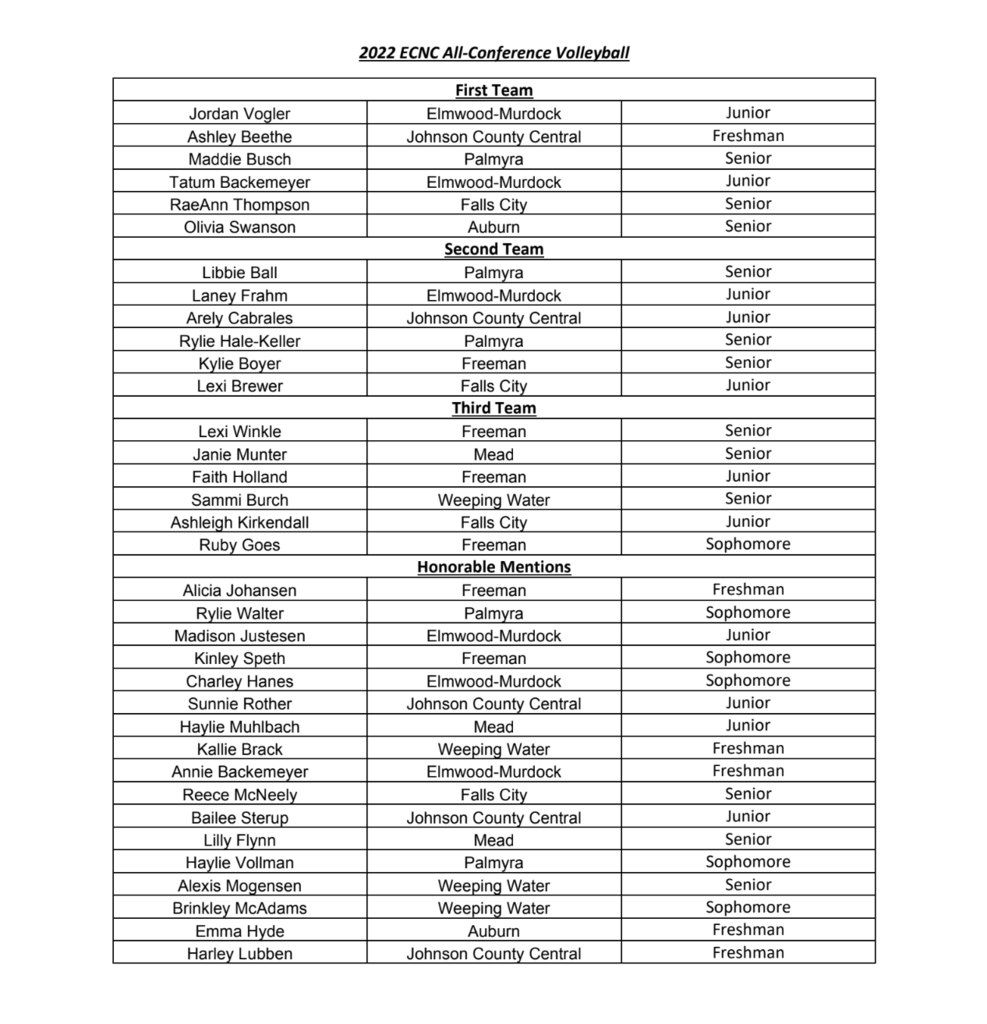 If you are bored and want to see some amazing feats of athleticism then click the link below of middle school staff completing an obstacle course in inflatable outfits. This was the reward for contributing to our annual NJHS food drive. Enjoy!
https://youtu.be/YEyHDf-EDKM

There is a great need and high demand for educators. ESU 4 hosted a Future Educator's Academy yesterday in Auburn. Students who attended discovered more details and received information from educators about various careers such as; Pre K-12th grade teachers, special education, behavior specialists, speech & language pathologists, support staff, counselors, therapists, principal & superintendent administration and much more. Attending from Falls City High School were: Clara Feighner, Addy Sayer, Kathrien Morris, Carlea Dunkhas, Ella Glathar & Taykia Hayes
Josie Lambert, an 8th grade student, works on her math skills by matching time, dominoes, word form, tally marks, and add and subtract problems to the Turkey feathers. Josie is assisted by Mrs. Roberts in Mrs. Hogue's math class.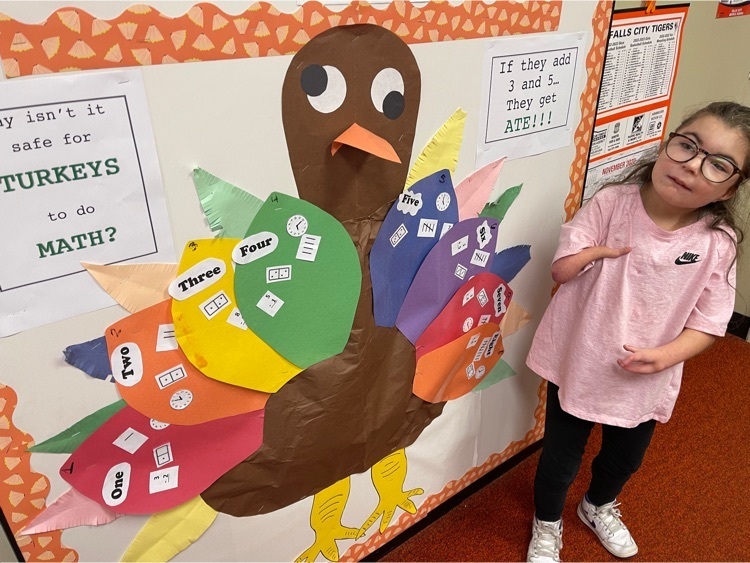 Dragons and aliens and unicorns…oh, my! Middle school was invaded by inflatable creatures, running an obstacle course for meeting the NJHS food drive goal! Thank you tiger nation for the 1,503 items donated, Cathie Sailors and Amber Holle for the costumes, and participants: Principal Jack Bangert, Nick Kraft, Sharon Jeffries, Anna Thompson, and champion Kory Huppert!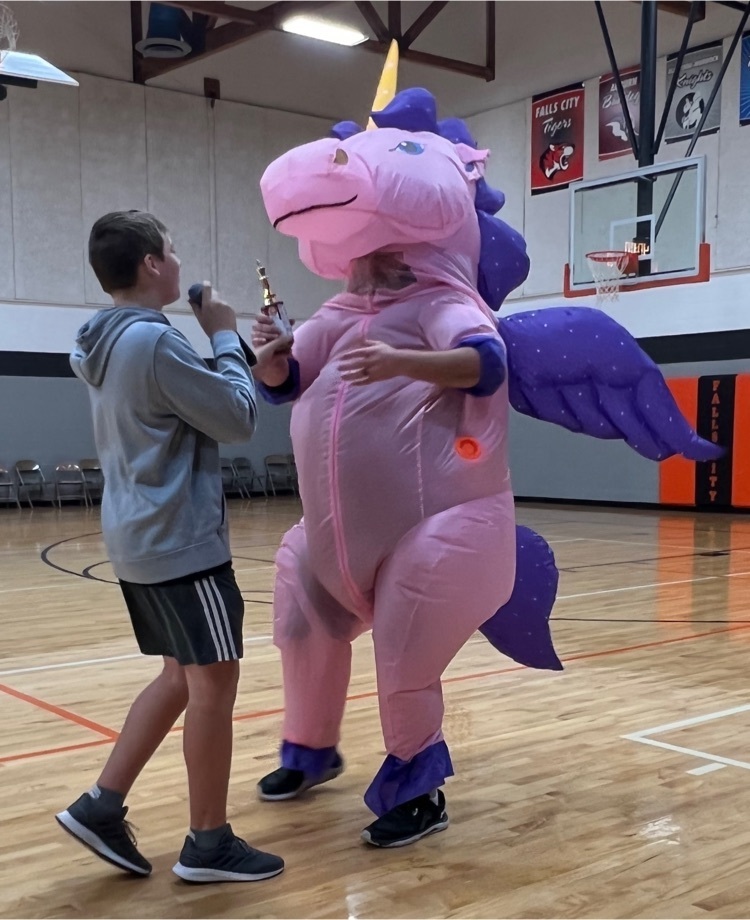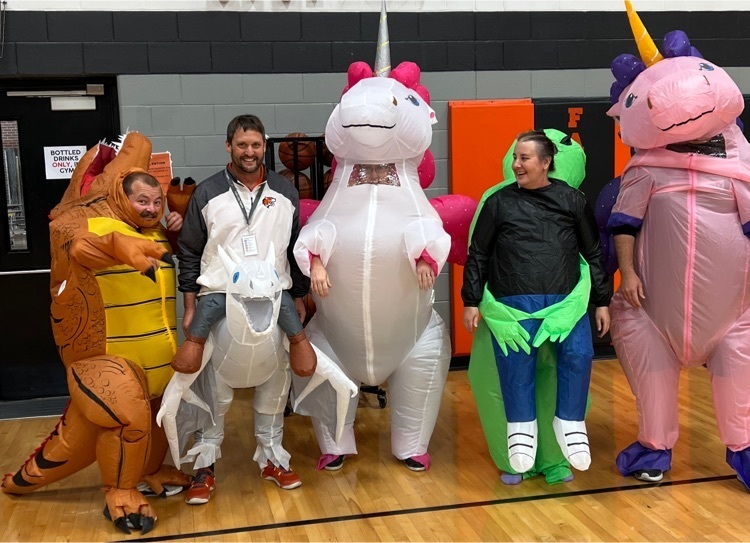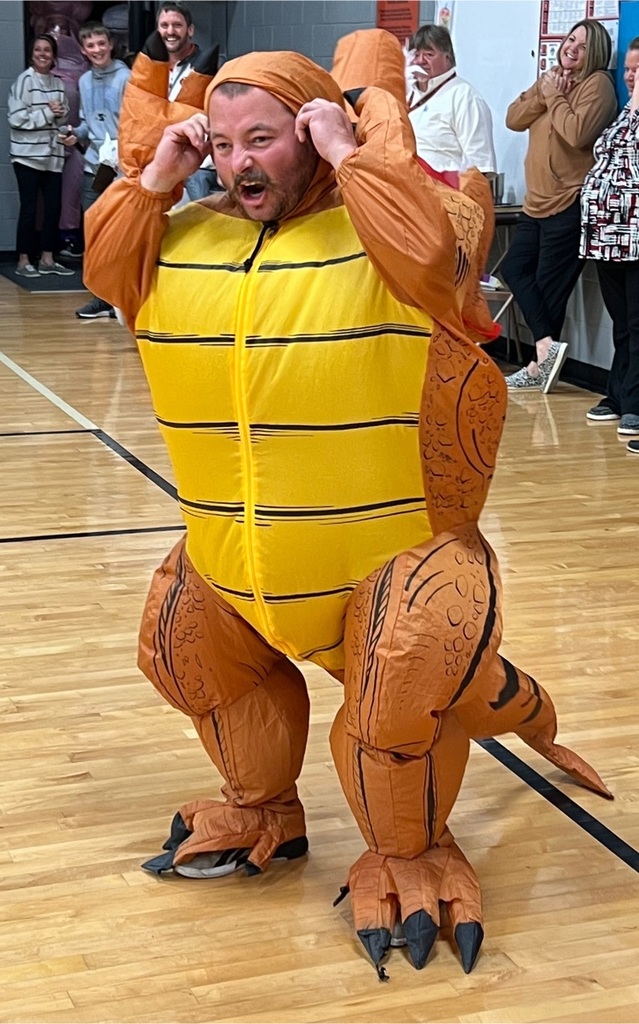 This week in science, chemistry students finished observing the melting point, solubility, and conductivity of substances using the new go direct science probes.