The 12 Days of Christmas continue. North School staff wore ugly Christmas sweaters today on this festive day.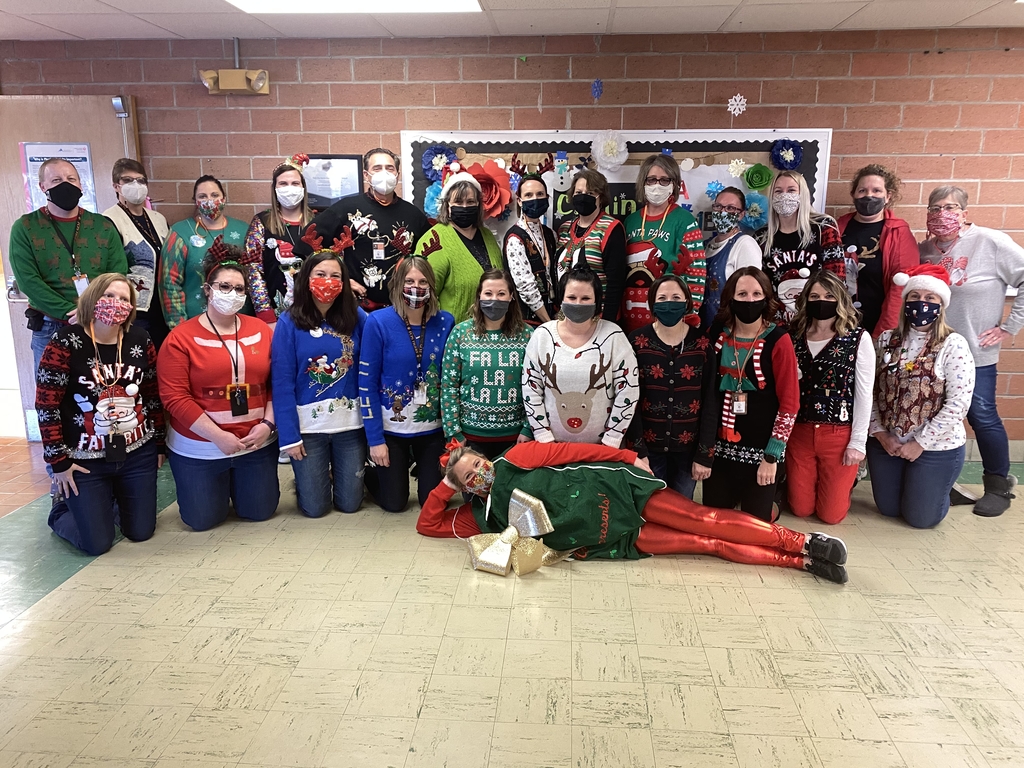 NCPA Fall Academic All state announced.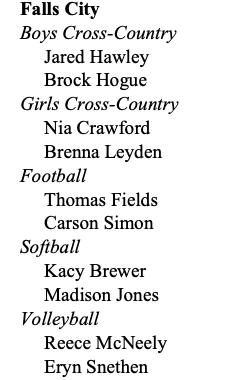 Falls City Lady Tigers are taking on Southern tonight at home. #teamwork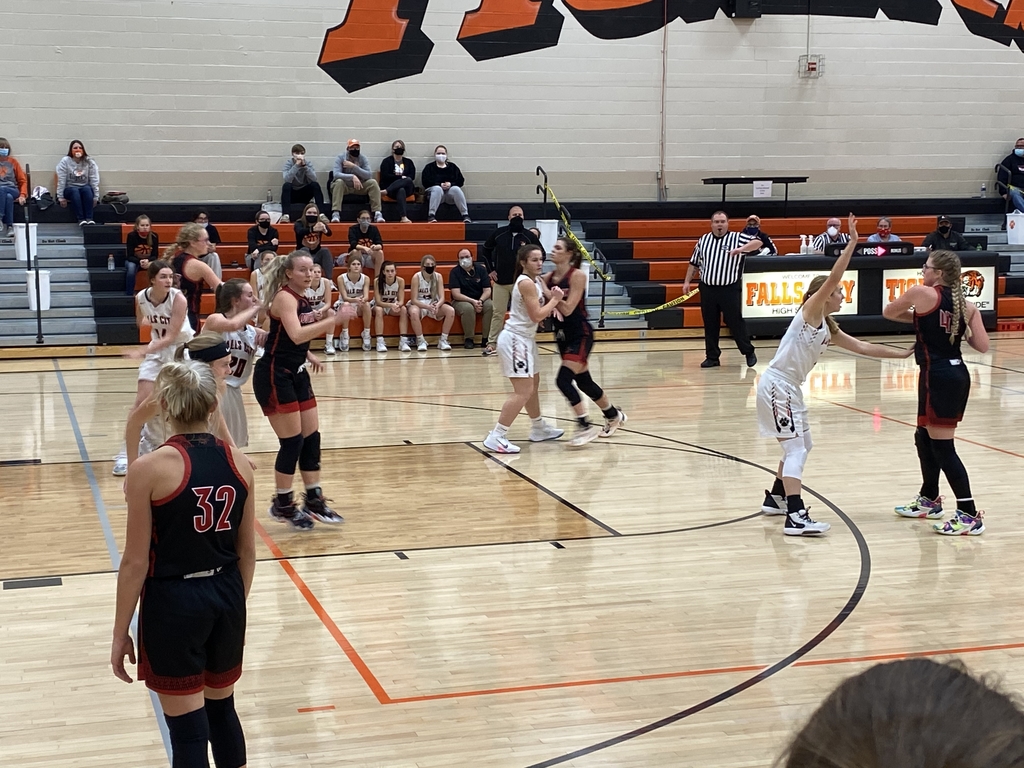 FCMS support staff are getting in the holiday spirit. They had the students trace their hands at lunch and then crafted a wreath from the cutouts. Happy Holidays from the FCMS students and staff!

Congratulations to Jason Vitosh, 2020 (Nebraska Rural Community Schools Assoc.)NRCSA High School teacher of the year.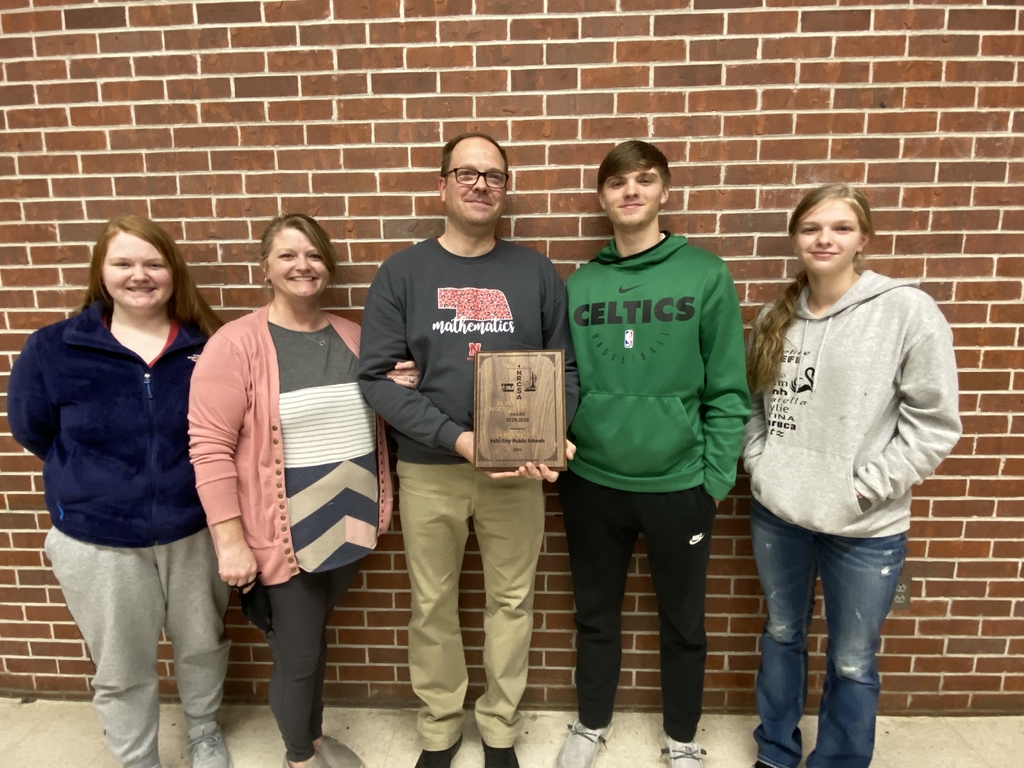 Girls varsity basketball warming up for their game against Freeman. Good luck ladies #tigers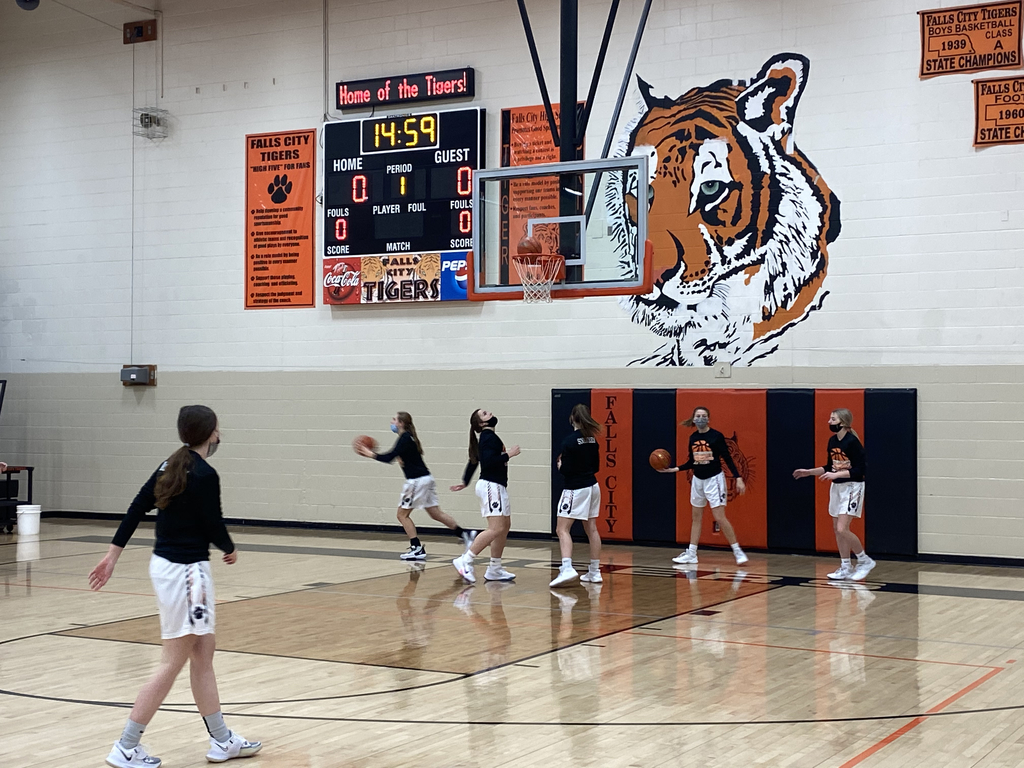 The FCMS Boys Basketball team split their matchup with Nebraska City Lourdes yesterday. The A team got the victory while the B team fell in a close one. Nice work players and coaches!

There will be a FCMS Girls Basketball parents meeting on Monday January 4th at 5:30PM in the High School Commons. Please mark your calendars for this date. Practice will begin on January 5th after school.

Congrats to the FCMS AOK winners for November. Pictured from left to right: Taiylah Moore 6th grade, Haiden Dorste 7th grade, Emilou Schulenberg 8th grade. These students were nominated by students and adults at FCMS for demonstrating acts of kindness during the day.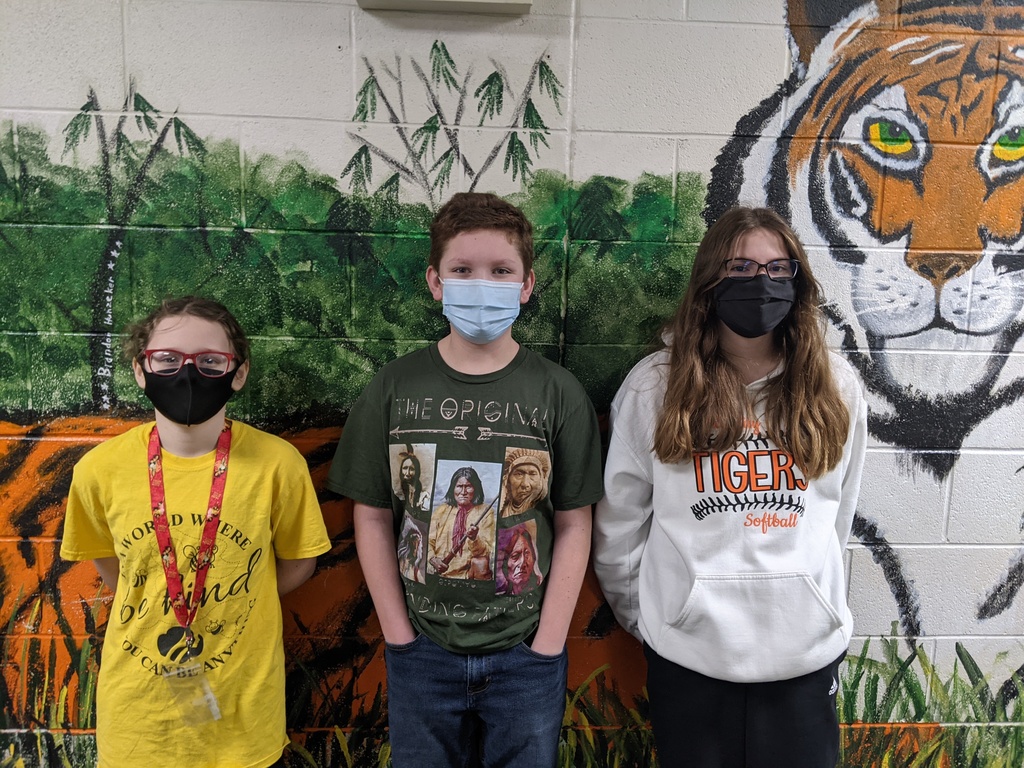 The FCMS boys basketball game vs East Atchison scheduled for Tuesday December 8th has been cancelled.

Next week is holiday spirit week at FCMS: December 10 = Wear black or orange December 15 = Wear green or red December 16 = Wear Christmas socks. December 18 = Holiday head apparel Santa hat, reindeer antlers etc. December 21 = Wear an ugly Christmas sweater, vest, or tie.

Tiger Wrestlers ready to kick off the season opener. #gotigers #pinsandwins #FCPublic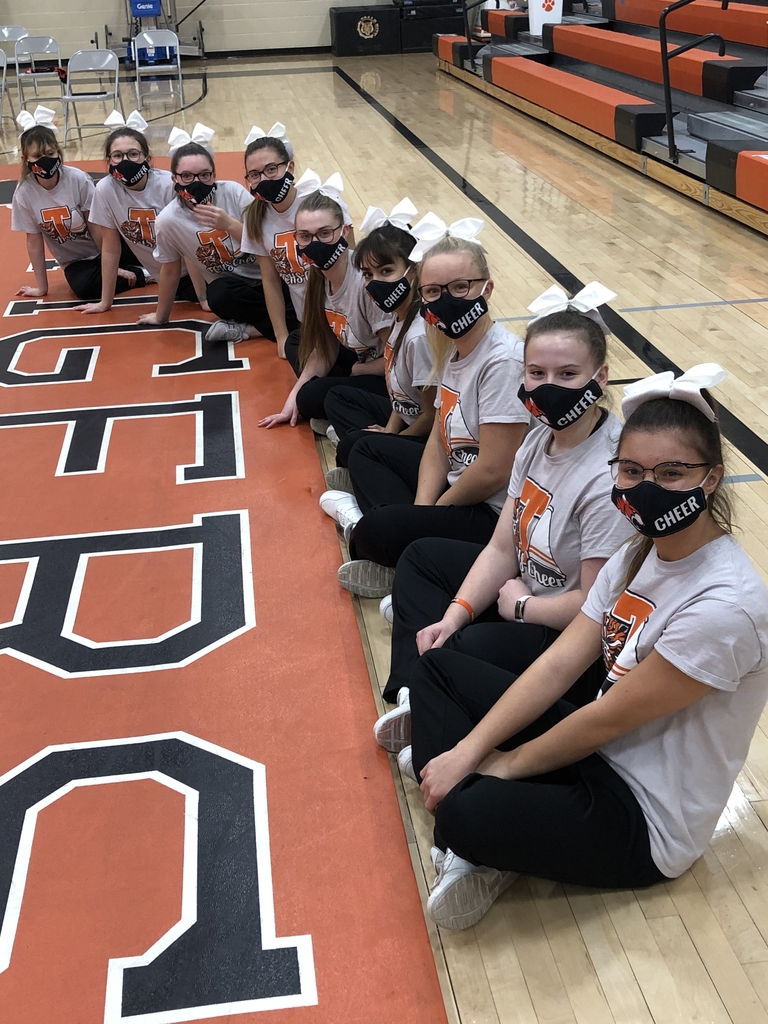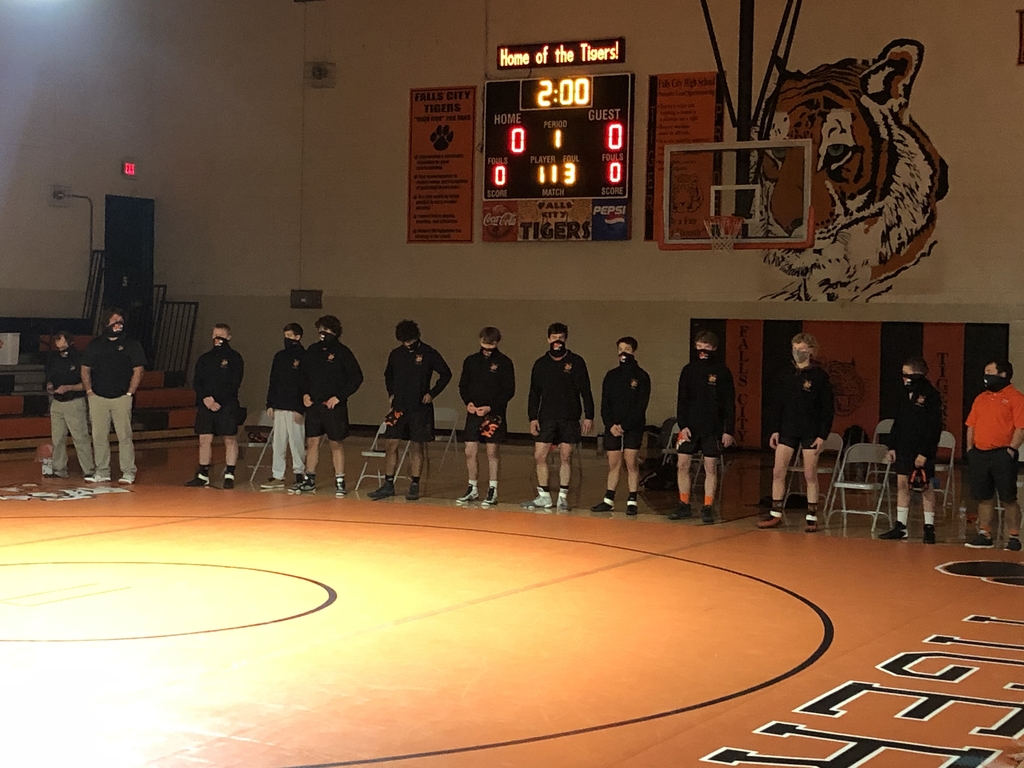 Best of luck to our Wrestlers and Girls/Boys basketball players as they kick off their seasons tonight and Friday. Wrestling tonight versus Syracuse at 6 pm. Girls and Boys basketball tomorrow night also versus Syracuse at 5:30 pm. Due to current protocols, you must be immediate household members and included on a players pass list to attend the activities. No walk-ins will be allowed. Home and away games if possible will be on Striv.tv under Falls City if home or the away teams channel. #kidsgettocompete #followingprotocols #FCPublic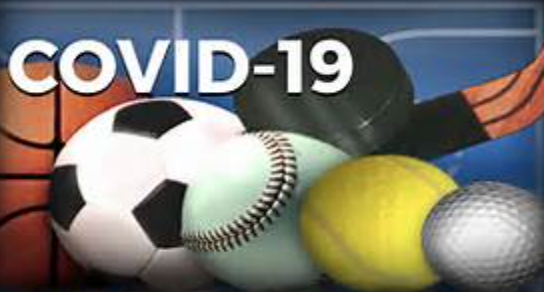 The staff and administration of Falls City High School have announced the
selections for November High School Students of the Month. The honors go to the following students: Upperclassmen- Riley Kobza, a senior, is the son of Travis and Marisa Kobza, Tessa Gilfillan, a senior, is the daughter of Mark and Ashley Gilfillan. Underclassmen- Jon Craig, a sophomore, is the son of Robbie and Wendy Craig. Sophia Nelson, a freshman, is the daughter of Chris and Tabitha Nelson. The students were nominated by high school staff and are being recognized for being innovative, responsible, resilient, and resourceful. Each of the students was praised in nomination comments for "academic excellence, going above and beyond what was asked of them, their helpfulness, and their leadership, and serving as excellent role models for their peers," according to high school principal Gale Dunkhas. Pictured L to R Riley Kobza, Tessa Gilfillan, Sophia Nelson, Jon Craig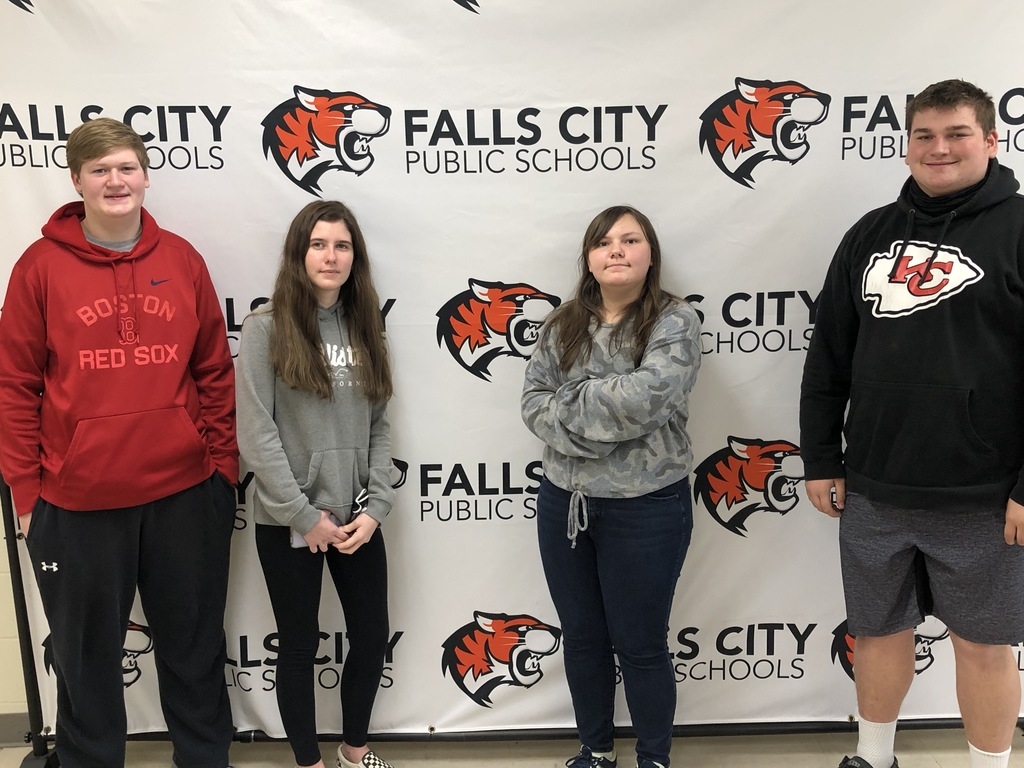 PCC students enjoying their morning pancakes after reading "If You Give a Pig a Pancake."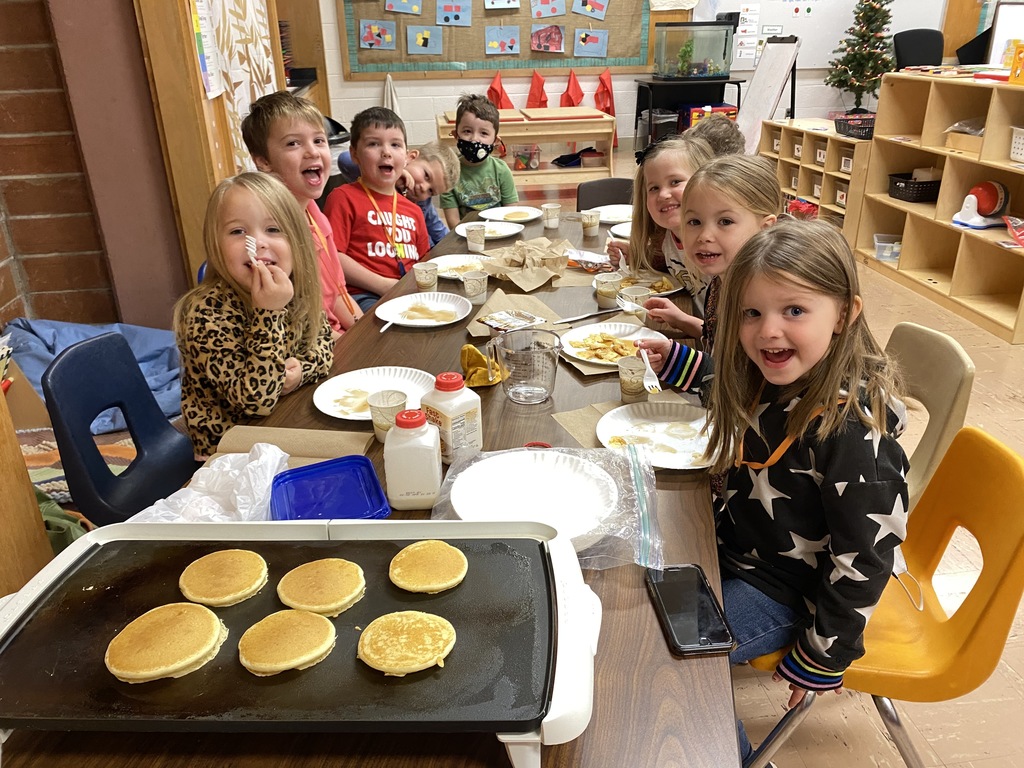 Falls City Public School District is updating our Covid-19 Exclusion Guidelines per the recommendations of the SEDHD in response to the increased number of cases in the community. Our previous guidelines only excluded based on the four main symptoms of Covid-19. The new guideline includes 2 or more of the following: Fever 100.4F, chills, muscle aches, headache, sore throat, nausea or vomiting, diarrhea and/or fatigue. We would also like to address the recent news that the CDC may be shortening the length of quarantine. We will continue to follow the most recent DHM even if the CDC does make changes. Quarantine is still 14 days from last contact with the Covid+ person. Isolation for the Covid+ person is 10 days from the first symptom or 10 days from the test date if asymptomatic. Please continue to wash masks daily and send plenty to school for students to rotate the use of when they become soiled. Ask your child to bring them home regularly for washing.


FCMS Parents: Please check with your students tonight as 3 week grades will be sent home with them today after school. Only 3 more weeks till the end of the semester and quarter 2!

Important dates in December: - Friday, December 4: 2-Hours Early Release - Friday, December 18: 2-Hours Early Release - Tuesday, December 22: 2-Hours Early Release Students are working hard in the classrooms as we are finishing up first semester!